The purpose of Brick+Mortar is to create a sense of place. Everything we do, from our scents to our storefront to our jobs program, we want to create a sense of place where people feel welcomed and valued.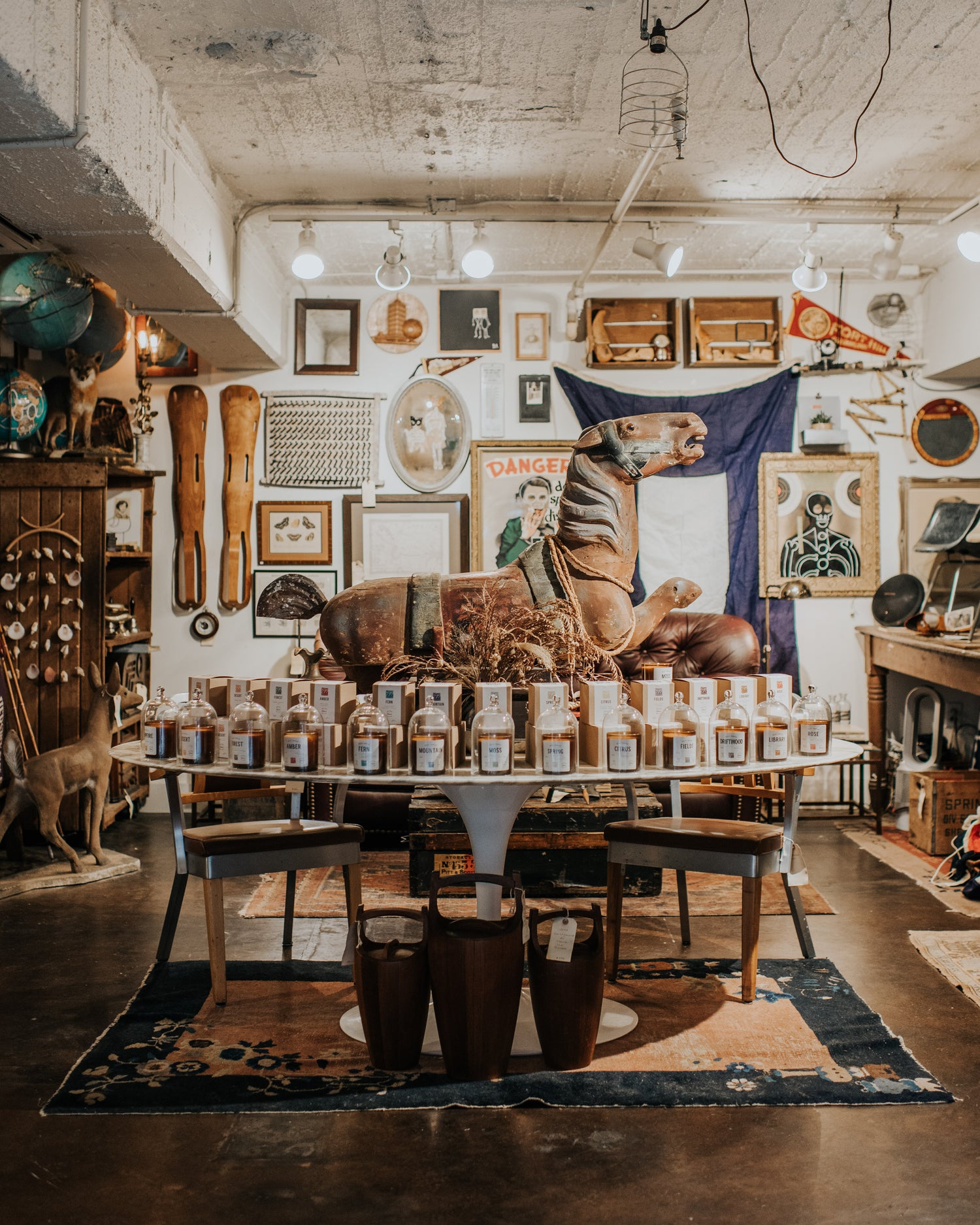 Storefront
When we first started, our business was buying and selling antique and vintage home goods. Most of our vintage business was online, with retailers such as One Kings Lane, Huckberry, and various other online platforms. When we grew into a storefront, the purpose always was to create a sense of place and belonging. A respite amongst a sea of retailers that tend to carry common items and brands...we want to be a place where you can see things you've never seen before and to feel welcomed. In our Atlanta shop, we carry vintage items from designers and brands like Eames, Jens Risom, Finn Juhl, Louis Vuitton, and Saarinen, mixed in with well worn rugs and vintage barware. We also carry a wide selection of folk art from Butch Anthony and Howard Finster. Our store is also fully stocked with the entire line of scents that we produce. A little bit of everything at price points for everyone.
Scents
Our candle line first started around 2017 and became a natural extension of the brand. We have always felt that a good retail experience engages all of the senses so we wanted our shop to look good, sound good, and smell good, which is where our candle line was born. The connection between scent and memory is so strong and can be a healing place so we wanted our scent library to evoke a sense of nostalgia that can transport you to a place in your mind or even create new scent/memory connections. Our line has everything from herby and bright to mellow and warm and our hope is that you can connect to at least one of our scents. We have now been carried by national retailers like Crate and Barrel, Ballard Designs, and Whole Foods and are also carried by a host of other amazing wholesale partners.

If you are interested in becoming one of our wholesale partners please check us out here.

If you are in need of private label candles, please email us at: emma@thisisbrickandmortar.com and we would be happy to send you a pricing sheet.
Jobs Program
Our jobs program at City of Refuge was designed to give women transitioning out of crisis an opportunity for work and a place of safety. We come alongside residents at City of Refuge and teach them how to pour and package our candles, giving them a paycheck, a line on their resume, and a place of safety to restart back into the real world. You can find out more about our program here.
Our Team
"How we spend our days is, of course, how we spend our lives." -Annie Dillard
Our hope is that our team at Brick+Mortar sees a purpose in what they do, and, in turn, passes that on to everyone we come in contact with. This quote, which is on every one of our candles, sums up how we feel about our work-- the parts give meaning to the whole. Our team is the foundation of the value of the company and we are fortunate to have some of the best people on our side.